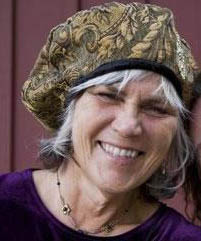 Glad You Found Me!
I have a wide range of designs in watercolor, gouache, and mixed media. I've created artwork for commercial and fine art print companies, and designers. My specialties…architectural, landscapes, and figurative work ranging from serious to whimsical. Illustrating covers, books, greeting cards, music CD's, calendars, posters, wine and food labels. It's all part of my day to day life.
Working mostly in watercolor with some gouache, ink and crayon, with attention to mood and light, her painting style is realistic and somewhat impressionistic.
When it comes to illustration, her use of mediums entail a grand variety of techniques and materials, ranging from whimsical to detailed and classic.
Residing in the Northern California foothills for the past 30 years, her own work is often born of the unique charm and inspiration from her elevated environment in the Sierra Foothills. She finds inspiration from the unique small town community she lives in filled with natural beauty and a huge population of artists both visual and performing. Besides creating her own art, she's also a music broadcaster for the community radio station – KVMR. Tune in sometime!
Jerianne considers herself primarily self-taught, but is definitely enhanced by regular collaborations with other professional artists and a trail of workshops with some of the most reknowned artists in the nation. She's also worked for many years as a ghost artist for designers creating their "look" producing everything from wallpapers to textiles, including figurines, fabrics, and dishware.
Some of her label designs include:
Indian Springs Vineyards
Lost Coast Brewery
Tomas's Dressings
Zinfandel Advocates and Producers
Other works she has created for both national and international clients:
calendars
textiles
books
children books
puzzles
CD covers
posters for festivals, music events, & travel agencies
Companies she has worked with
Gibson Greetings
Target
Havoc
Lynn Hollyn Assoc.
South Sea Imports/MMFAB
various print companies and manufacturers
In addition to creating illustrations, paintings and prints, Jerianne has also been commissioned to create murals and wall trims in and around Northern California ranging from restaurants to bedrooms!
Recently she was invited as one of 26 artists around the world to celebrate the 25th Year of Arts at El Minia University, Egypt. A huge honor and an experience she will never forget!
Jerianne especially enjoys the process of working with real human beings to
find those special elements they're looking for, and to create magic together!
You might say, "She not only plays, but works well with others!"